Introduction
The pandemic of Covid-19 has affected every sector of the economy, salaries included. Some grads lost their jobs yet others had to start working for less than the average salary. And that most likely depends on the major.
During the application process, you might wonder whether your degree is worth it in terms of potential income. Students place a high priority on wages and benefits while anticipating employment. Their good reason for that is large debts (plus interest) to pay for education in the first place. As such, some students may even turn to cheap college essay writing service to ensure they excel academically and secure better job prospects.
Staying updated on the average wages will help you estimate the probability of promptly repaying your student loan. It will also assist in planning your future lifestyle as well as whether your career will financially provide that lifestyle.
Many students have some wrong beliefs about their earning potential straight after graduation.
In this article, we will discuss the average salary for college graduates. We also will provide some newsworthy stats from the most recent research studies. Let's consider student expectations and explore the reality.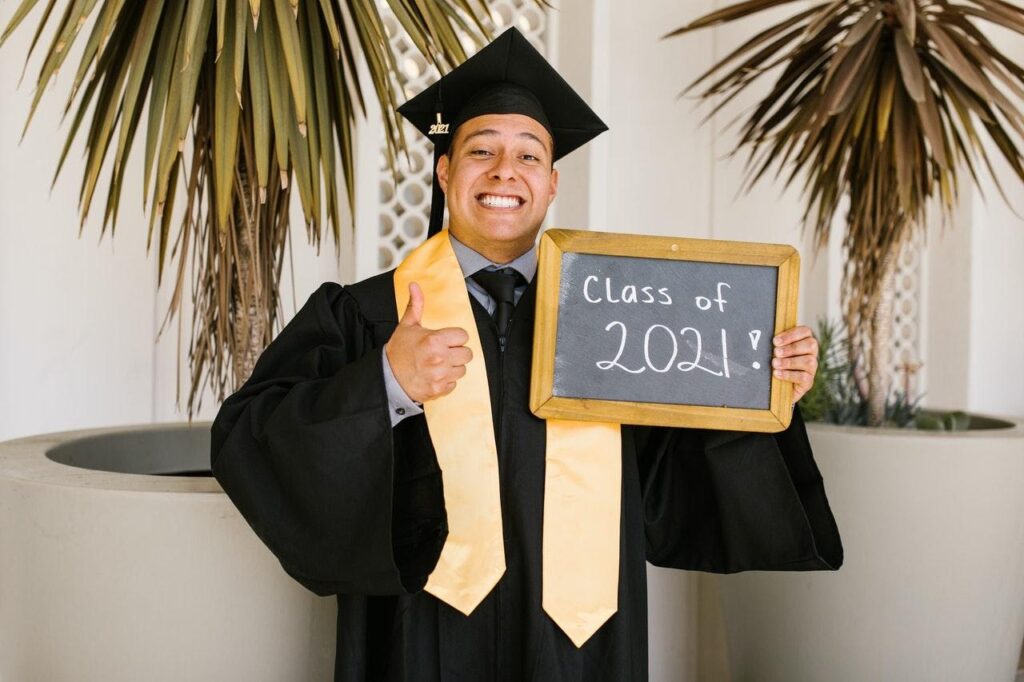 What is the average salary of a college graduate?
Despite the markets getting more competitive, today's graduates still make around the same wages compared to the last several years.
The National Association of Colleges and Employers (NACE) reports that the average starting salary for a college graduate is about $55,260. Another finding is that grads with degrees in science, technology, engineering, and mathematics (STEM) will continue to get the highest starting salaries ranging from $52,000 to $71,000. 
Average salary by industry
Here's the list that breaks down grads' salaries by industry:
Business
Marketing
Health
Finance
Technology
Business
According to NACE, a good starting salary for business majors with a bachelor's degree is around $54,019. Business majors stay on the lower end of the spectrum, with most salaries being closer to $60,000. And this is significantly lower than many business majors assume, even with an MBA.
Marketing
According to NACE, marketing majors (at the bachelor's degree level) kick off at about $52,988. Yet keep in mind that marketing major salaries rise significantly at the master's level, ranging around $86,318.
Health
The Bureau of Labor Statistics reports that the starting salary of health majors is about $66,440. However, health major salaries range widely in terms of the expertise level and the job title.
Finance
NACE study notes that, at their first job, finance majors make around $55,609. At the master's level, though, this amount increases to about $70,957. They, too, have a relatively wide range of salary expectations. It depends on the career goals as one might become a consultant while another will open their own business.
Technology
According to NACE, on average, technology majors start at about $59,642. This number jumps to around $75,433 at the master's level.
Average graduate salary by Bachelor's Degree
NACE reports the following data on the average salaries by Bachelor's Degree: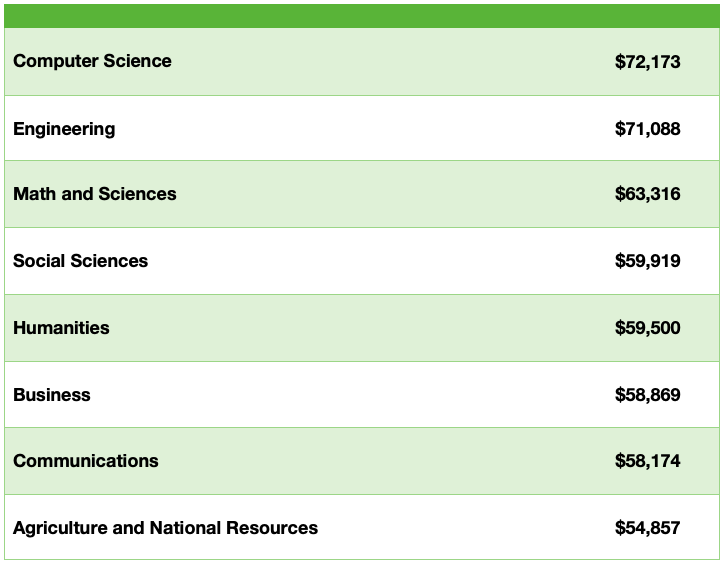 Majors with the Highest earnings
PayScale's 2021 College Salary Report states that compared to the choice of school, the selection of major might have a bigger impact on future earnings. 
Majors in their early career (0-5 years of work experience) that pay the most are: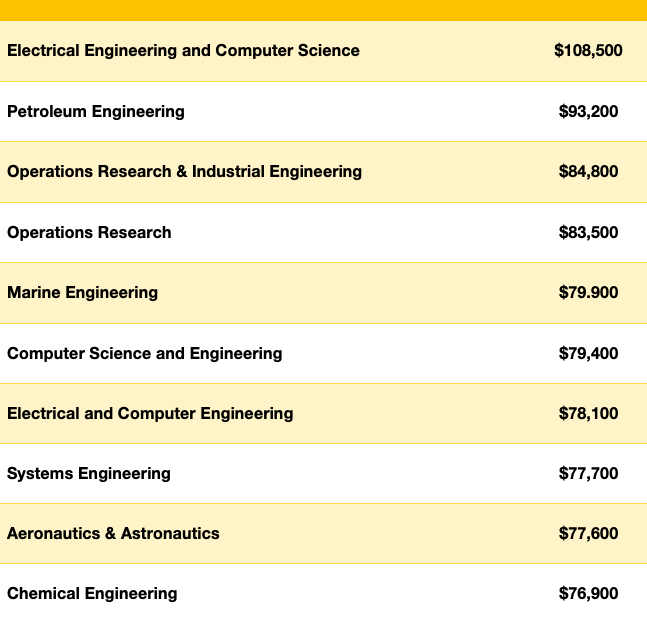 Majors with the Lowest earnings
The same report notes the following majors in their early career (0-5 years of work experience) that pay the least: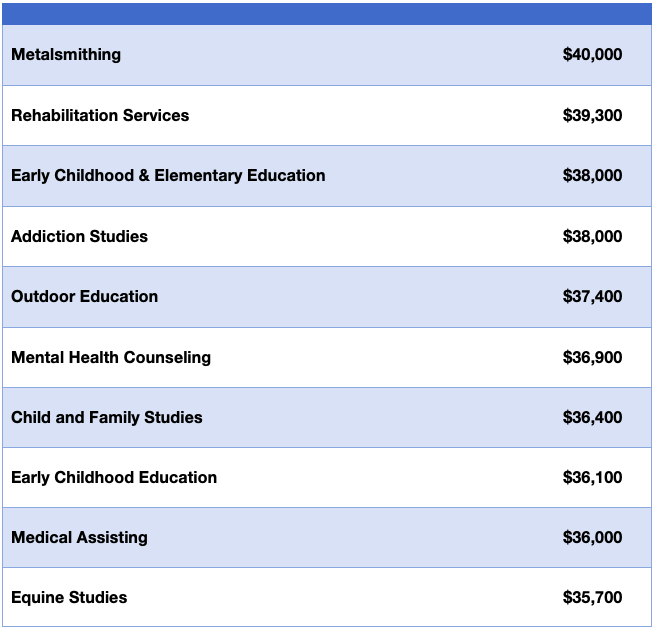 Most-in-demand Degrees
NACE states that the most evident current demand is for accounting majors. Moreover, their average salary (at the bachelor's degree level) has increased by more than 10% since last year, i.e. from $52,734 to $58,508.
Here are the Top Bachelor's Degrees In Demand by Major: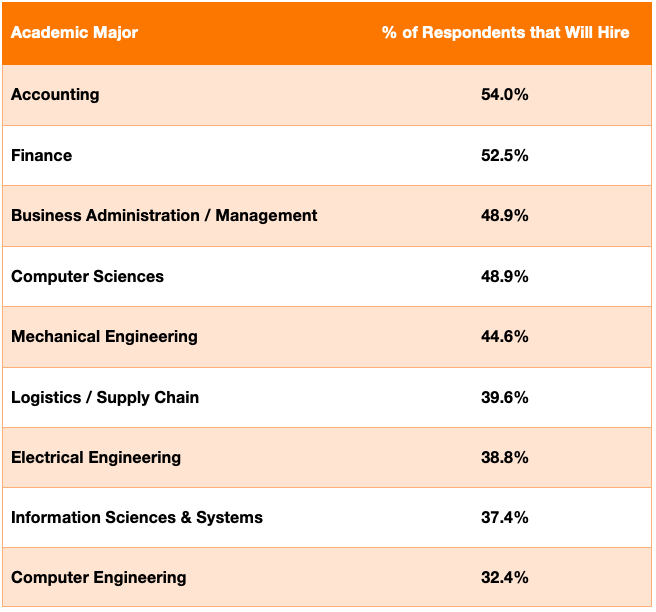 Is college worth it?
Yes, it is. It enhances your chances of getting a good job that meets your wants and needs. Moreover, the female holder of a bachelor's degree makes nearly $630,000 more compared to the individual with a high school diploma. The average male graduate, throughout their lifetime, earns $900,000 more than the average high school graduate.
Generally, college is considered an investment in an individual's future. The return and success of that investment are achieved in many ways and can be affected by several factors. Some of those include sex, the educational institution you attended, and the level of education you pursued.
The Federal Reserve notes that getting a degree is still a worthy investment. The average college graduate salary is around $78,000 per year. Higher education still contributes to premium earnings compared to a high school diploma.
Furthermore, the Bureau of Labor Statistics claims that the average US bachelor's degree holder earns about $1,173 per week. In contrast, those with only high school diplomas make around $712/week in comparison.
For some of those fresh out of high school, the best way to select an institution is by looking at their job placement rates. We all know that attending a college can be extremely expensive, so this approach should probably be one of the first to consider.
Regardless of your field of study, a degree automatically boosts your chances of earning more. The average income for someone with a degree is more than double that of someone without it. The only exception to this unwritten rule is trade specialists. They make generous hourly wages having completed their apprenticeship.
How to get a good salary out of college
Consider Internships

In almost every industry, both big and small companies offer internships to graduates pursuing to gain experience. An internship usually includes a period of six or twelve months, and afterward, a company can consider hiring you for a full-time position. Search for a company or industry that, in the ideal case, you would like to work in. Then check if they have any internship or work experience programs.
Mind that internships and other forms of early career experience contribute to more competitive resumes. Many grads leave college with little to zero work experience. In case you were involved in any volunteer work during your time there, it is to provide you with a competitive edge. Any extra opportunities mentioned in your resume prove to hiring managers that you are highly qualified.

Advice on Job Interview preparation

Being aware of your own worth is the best way to make sure you will be able to get the best wage possible after college. The more data on salaries and other information within your career field you collect, the better position you will be in during an interview. And here's another list of pieces of advice for you to get prepared for your first interview:
Get knowledge about the company. 

Compose specific answers to some most frequent interview questions like the following:

What are the reasons for your interest in this position? 
Why should we hire you?
What are your greatest strengths and weaknesses? 
What are your methods to deal with pressure? 
How do you see yourself in five years?
What are your salary expectations? 

Mind the dress code of the company and act accordingly. 

Arrive there on time but not too early. 

Be focused and concise. 

Avoid speaking negatively about your previous experiences. 

Negotiate your Good Starting Salary

How much does the average college graduate make in your career field and at your education level? Doing profound research to answer this question is a great starting point for your negotiations. 
Afterward, highlight your talents or special skills that can make up for your absence of on-the-job experience. 
Speak with confidence, and do not be afraid to ask for a larger amount. The worst they might do is say no.
Conclusion
We must take into account that the events of the years 2020 and 2021 have vastly affected the job placement rates of college grads. However, young people do not throw education overboard.
Yes, picking the right college to attend and achieving some academic success is more than a tricky ordeal. We can help with the latter, by the way.
However, while assessing offers for your first job after college, it is essential to consider factors other than a salary itself. Take into account potential opportunities for personal advancement within the company. Mind your general emotions about the daily job responsibilities and the complex work-life balance.